So where did I leave off? I wanted to see the Monkey Temple, Boudha Stupa, Thamel, the Royal Palace and Durba Square! When I arrived in Kathmandu, it was hot, smoggy and I just finished a cold shower which at this point was not so bad.
I got dressed really quickly and we were back out on the streets. In Kathmandu getting a taxi is really easy especially if you're staying in the touristy section, Thamel. All you have to do is flinch and someone will ask you if you want a taxi.
Tip #9 – "When in Kathmandu always ask how much a taxi is before getting in. It will save you time arguing with a taxi driver about a price later and you know how much you're paying upfront."
Never pay more than 10 US dollars to go anywhere in Kathmandu! Kathmandu is relatively small and you can always find someone who is cheaper if the taxi driver is charging too much. The above listed are the main sites you want to go during your stay in Kathmandu. I would encourage you to head to the Himalayas because a lot of Nepal is about hiking and seeing the mountains! (If you're feeling super lazy then there is always flights that circle the Mount Everest and the Himalayas).
So carrying on with the story. After I got ready, Matt and I went downstairs to buy bottles of water (in Nepal it is essential that you buy bottles of water and to never drink the tap…  you will get sick) and also asked for a map from the front desk. They front staff gladly gave us a map and helped circled the most important things on the list. Then we settled on a taxi driver who took us to all of the places we wanted to see that day for a set price of around 25 US dollars. Remember this was to criss-cross Kathmandu so the price of 25 dollars is not that bad.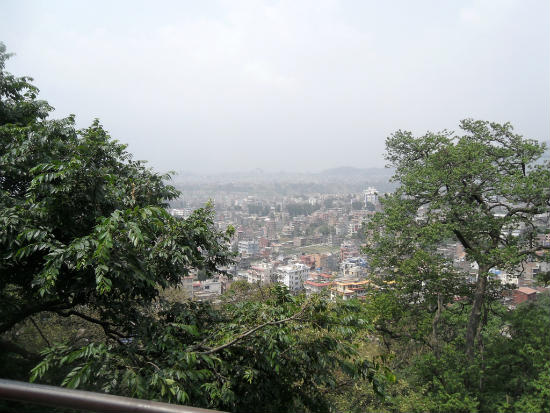 For the first day we decided to take it slow because we were still jet-lagged and exhausted from the long travels we just had to endure. So we decided to see the Monkey Temple, the Boudha Stupa, Thamel (which our hotel was in so we kind of already got a view of Thamel while driving in), and the Royal Palace.
First stop was a well worth drive to the top of Kathmandu that offered great views of the city. Monkey Temple (English name) was our first destination in Kathmandu and is a great place to see Monkeys and an old Buddhist temple. We spent a good 45 minutes there exploring the grounds of the temple and walking in on Buddhist monks praying and chanting.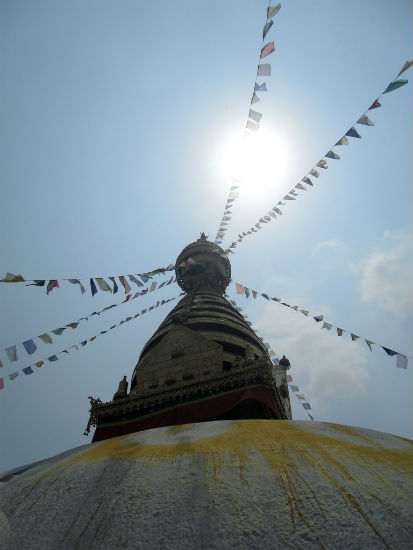 We did get scammed up there as well. It really was my fault. A lady saw that I was spinning the prayer wheels and told me that I should spin all of them which I did (and there was a lot). And then she sat me down and gave one of those spiritual paints on my forehead and then asked for cash in kind of like a symbolic offering. Whatever. I don't think she needed that much money to do what she did but for me it didn't matter as much. I was just wrapped up in the moment and I'm glad I did it. On a side note she did take like 15 bucks from Matts hand. Something he surely wasn't expecting (sorry for the scratchy background and the shakiness).
We got to tour the grounds some more and take pictures of some really amazing views of the valley of Kathmandu. From here the city almost looked  tame but once you get back on the road again you are back into reality.
Bumpy is the best word to describe you taxi experience in Kathmandu. The roads are always bumpy and traffic is chaotic but its a weird chaotic. There are relatively no accidents as far as I saw in Kathmandu and the cars seems to always know their place when driving. There is a lot of honking, expect no seat-belts and expect to be in a really old car that appears to be on the verge of breaking down. This is Kathmandu and there is no way to get around this experience. If you're more adventurous then you should take a rickshaw taxi (sorry for the scratchy background, it's my camera)!
So we came back down the hill and ended up going to the Royal Palace. The Royal Palace is the once residence of the former Royals who were ousted out back in 2008. The Palace is only open a very short part of the day so you should plan your day to go around midday or a little after midday. You can take no pictures but they do have storage for all of your belongings!
I have no pictures of the Royal Palace for that reason. But as a whole I was largely disappointed with the Royal Palace. First of all… it is no Versailles. The Nepalese have not kept their Royal Palace from the decay and have not fixed paint chips and what you would think are important things to fix for a Royal Residence. When you go in you will notice that the furniture is outdated, the floors are chipped, the carpets are stained, it is dusty, etc…
Honestly I was quite shocked that they didn't take better care of their palace. For me it didn't feel very Royal and you will see what looks like outdated 50′s American furniture that is in serious need for repair. And you will get to see where the Royals got shot in the massacre that happened back in 2001 (p.s. the Queen of England did stay here at one point and I was shocked that she would have).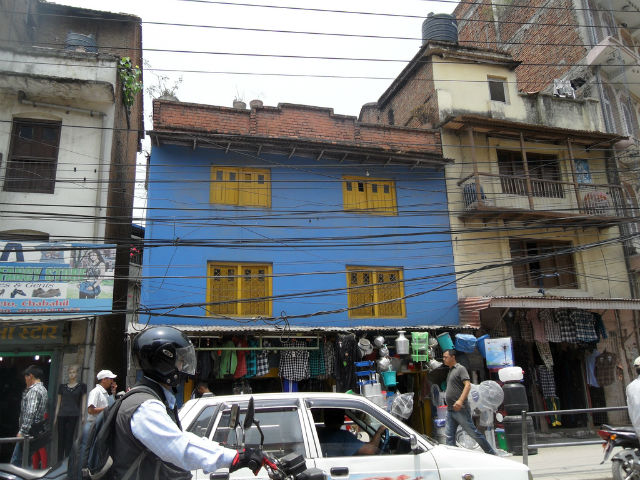 Now I don't want to rip on the Nepalese about the Royal Palace but I would invite you to compare other Royal Palaces. I know Nepal is not the richest country but I was a little surprised that they just didn't maintain such an important place.
Moving on! So next was the Boudha Stupa. Perhaps one of the most important Stupas in the world and for Buddhism. It is a must when visiting Kathmandu and a lot of travel guides will have this as a picture of Kathmandu or something. It is one of the largest Stupas in the world and is a key figure in Tibetan Buddhism (which I love for the fact that I was able to see so much Tibetan Buddhism outside of Tibet. In fact these days you might find more Tibetan stuff in Nepal than in Tibet).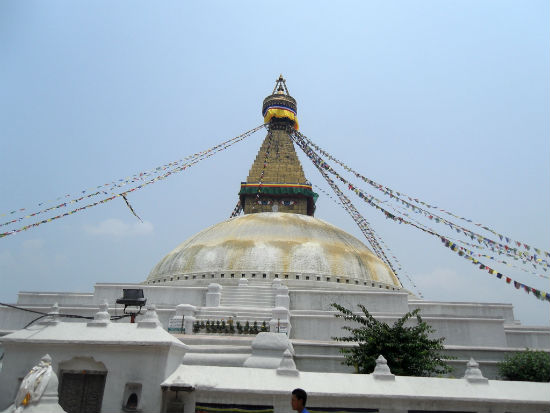 At this site there is a small fee to get into the site but it's well worth it. I would recommend walking around the Stupa and stepping up on the Stupa to get some good photos. In Tibetan Buddhism always spin the prayer wheels to the right! (in one of my videos I do it the opposite but it was before I knew the rule). If you can read about the history of this place and the myths that lie with it, you will know and understand what you're looking at better. These structures are ancient and of most importance to so many people around the world that you truly feel you're at a significant place. Take it in and don't feel rushed to move on.
After this we felt we had done everything we had wanted to do for the day. So we headed back to the hotel, ate a meal and prepared ourselves for taking a crazy flight to Lukla, Nepal tomorrow! More on that on Friday.
2012 Asia Tour
Arriving in Kathmandu | Part Deux
A Scary Flight to Lukla, Nepal
Pingyao | A 2,700 year old City
The Birds Nest to Forbidden City
The Summer Palace, Mao's Body and Temple of Heaven
images by: shawnvoyage